See who's flying with Switchfly.
A great travel experience unites a customer with a brand and an employee with meaningful memories. Yet the current experience of booking, managing, and delivering travel just doesn't fly. Switch to Switchfly, a travel experience platform for making memorable moments.
Reward customers and employees with irresistible travel.
Switchfly connects all the moving parts — from flights and hotels to car rentals, traveler support, and customer loyalty and employee rewards programs — into one seamless experience.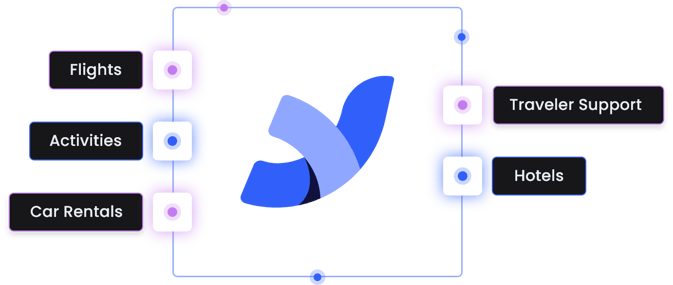 M
Hotel & Lodging Offerings
$ M
Profit Generated for Clients
It's time to fly.
Get going with Switchfly today.
Customer Loyalty
Switchfly's loyalty solution lets customers pay with points, cash, or a combination of both. With white-labeled capabilities across multiple brands, you can operate multiple travel loyalty programs across a single platform and offer unique premium products to select customers.
Business rules and logic across customers
Tiered fixed pricing
Points earnings based on segmentation and rules
Flexibility for points calculations and redemptions
Summer night market
Cabo San Lucas, Mexico
Total Points
138,494 Points
Rewards Points Redemption
Type in the text box or use the slider to select how many points you'd like to use for payment. To pay with your card only, set slider to 0.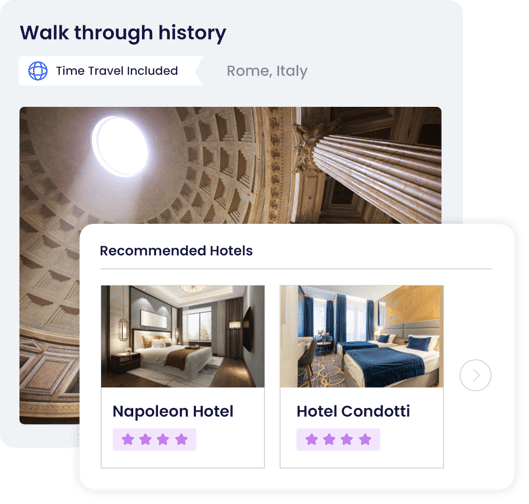 Employee Rewards
Our loyalty solution extends to employee rewards and recognition programs. With easy-to-use tools to offer unique and valuable travel experiences, you can attract and retain employees, improve satisfaction and engagement, and ultimately drive productivity.
Flexible payment and redemption options
Integration with HR rewards and recognition programs
Segmentation and targeting
Reporting and analytics
Get a one-stop shop for all your travel needs.
We'll take care of you and your customers or employees from planning to booking to boarding and everything after. Switchfly provides support at every step of the way so the adventure doesn't have to stop.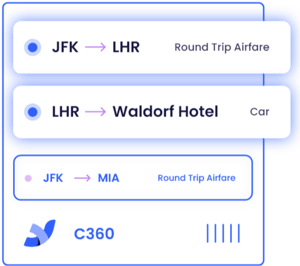 Machine learning and recommendations
The C360 Engine is an essential part of the Switchfly travel experience platform, driving consumer recommendations and personalization for each user in the system. This enables better matching behavior to intent.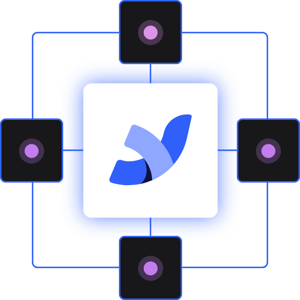 Vendor partnerships and management
Switchfly provides businesses with a suite of tools and services that simplify vendor partnerships and management so you can get back to taking care of your people.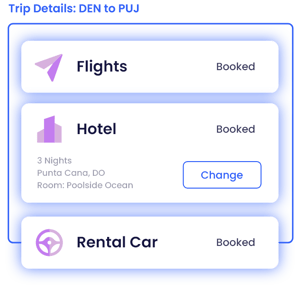 Dynamic packaging
Switchfly's dynamic packaging platform allows clients to bundle complementary travel products from the world's largest travel inventory, such as airfare, hotel, rental car, and activities, into a single offering to improve conversions.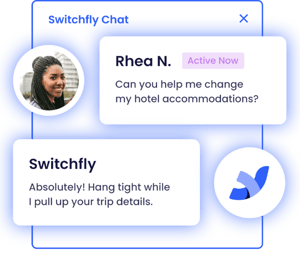 On-ground traveler support
Switchfly provides on-ground traveler support to ensure that your customers and employees have the assistance they need at every step of their journey so they never have to worry about missing out on the travel experience.
Switching up the industry
We work with some of the biggest, most trusted companies in the travel technology industry to provide our customers the most advanced travel booking solution for their rewards program.
Allianz
Allianz insurance is offered to travelers for peace of mind while traveling.
3DS2
3DS2 helps protects customers's credit and debit cards online.
Avis
Avis's car inventory helps Switchfly's customers get where they want to go.
Airlines Reporting Corporation
ARC facilitates ticket transactions between airlines and agencies.
Cardinal
CardinalCommerce enhances digital payments for security.
Sabre
Sabre supports Switchfly's travel inventory with air, hotel, and additional sources.
Agoda
Agoda supports Switchfly's diverse offering of hotel properties.
Viator
Viator manages tours, sightseeing, day trips, and more.
Mystifly
Mystifly supplies air content (flights, ancillaries, and bundles).
Expedia Group
Expedia supports travel inventory with several travel aggregators.
WNS
WNS supports travel better with excellent customer experiences.
Amadeus
Amadeus supports Switchfly's global flight inventory.

International Air Transport Association (IATA)
Switchfly is an IATA accredited travel agency.
Boost Your Rewards.
15 Minute Call.