Japan Airlines Launches Switchfly's Packaging Solution ahead of 2020 Summer Olympics in Tokyo to Serve Tourists Traveling to Japan
Travel packages seamlessly bundle flights and ancillary products

JAL Group subsidiary, JALPAK Co., Ltd., and Switchfly, a leading travel technology platform from San Francisco, have jointly launched a web-based Dynamic Package reservation system for customers in USA and Canada in October 2019 to power its vacation package bundling of flights, accommodations, transportation, and activities products, including those catering specifically to tourists visiting Japan during the Tokyo 2020 Olympics next July.
Package offering has already been launched in Australia, Singapore, and Thailand. However, the introduction of Switchfly's platform in USA and Canada, along with upcoming 8 additional markets by March 2020, will boost tourism to Japan providing inbound travelers with a complete one-stop travel shopping experience for planning and booking their trip. For example, travelers booking flights to Japan can easily add a hotel reservation with accompanying ground transportation and offers on local tours and activities. JAL customers will enjoy a world-class online experience with the most relevant and unique travel products for their journey, all delivered seamlessly through the airline's own website.
JAL will have the advanced functionality to promote dynamic packages to customers of all market segments, no matter their destination. These features allow the airline to maximize marketing spend ROI, strengthen customer loyalty, and gain valuable customer insights by owning their customer.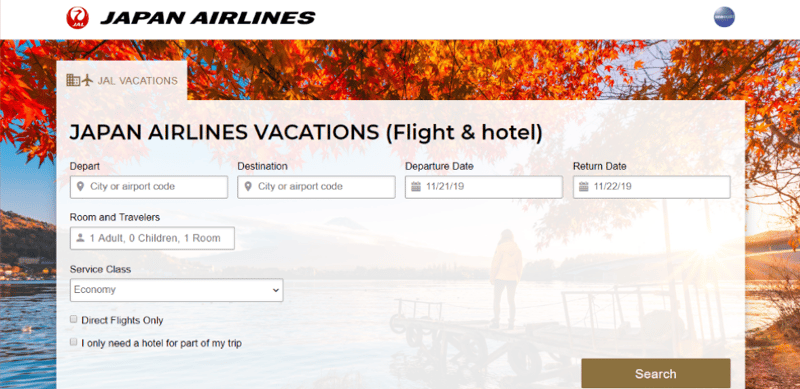 ###
About Japan Airlines
Founded in 1951 and became the first international airline in Japan. A member of the oneworld® alliance, the airline now reaches 405 airports in 66 countries and regions together with its codeshare partners with a modern fleet of 234 aircraft. Awarded as one of the most punctual major international airlines and a certified 5-Star Airline by Skytrax, JAL is committed to providing customers with the highest levels of flight safety and quality in every aspect of its service, and aims to become one of the most preferred and valued airlines in the world.

Contact Details
Corporate News Group, Public Relations
mediarelations.hdq@jal.com
About Switchfly
Founded in 2003, Switchfly is a global travel e-commerce platform used by the most recognized airlines, hotels, and credit card loyalty programs in the industry such as American Airlines, JetBlue, LATAM Airlines, American Express, and Mastercard. Switchfly's mission is to be the most adopted and trusted platform directly connecting companies to travelers, and travelers to the world. Its three white-label products: Switchfly Packaging, Switchfly Loyalty, and Switchfly Air, work seamlessly together and allow brands to grow revenue and increase customer loyalty, while still focusing on their core business, adhering to brand standards, and retaining ownership of their customers and data. To learn more about Switchfly, visit www.Switchfly.com.

Contact Details
Kelsey Dielman
kdielman@thinkinkpr.com (305-749-5342 ext. 260)